Description
DLF The Crest Gurgaon
Quality and perfection' what makes DLF The Crest out of the box, this ultimate project is a great assortment of all modern features and amenities just to make sure that buyers get the iconic lifestyle and indulge each day with different activities. DLF is the one who has created the benchmark in the real estate sector and that is the only reason why buyers more prefer DLF.
DLF The Crest  is the blend of 2/3/4 BHK Apartments and 4/5 BHK Penthouses all of them are conceptualized in the appropriate way and these fully furnished apartments in Gurgaon with modern space, advanced kitchen, stylish bathroom, wide balconies, spacious bedroom and all places are sun-filled with proper cross ventilation. All these together make Crest unlike from other projects. Just as your inner home is beautiful, the outer space is also carrying 75% greenery with fresh air, mesmerizing flowers, water bodies to cool the atmosphere. This captivating place not only enthrall the buyers as well as the outer visitors.
DLF Crest Review
Highlight of the project, it promises breathtaking views of the never-ending greenery with renowned creations like DLF Park Place, The Summit, The Belaire, Horizon Centre, The Pinnacle, The Magnolias, The Aralias, all in one look, that keep buyers spellbound completely.
For the comfort and enjoyment; facilities like swimming pool to beat the heat, sports club for sports junkie, clubhouse with different services, meditation/spa/yoga space for peaceful mind, lush greenery for fresh atmosphere, dedicated car parking space, kid's play area, sitting area and a lot more services are available only at DLF The Crest.
The Crest's visionary design brings the concept, idea, thinking together make it a humdinger landmark and its location, make sure that you are insulated from all unwanted noise and make The Crest your own private place which keep you captivating throughout. Crest place creates unforgettable journey.
This iconic project location in sector 54, Gurgaon, which is one of the demanding sectors of Gurgaon, due to its excellent connectivity to many major projects and even to essential places like school, office, retail space, shopping centre, bank & ATMs and a far more places are within the distance, Undoubtedly, Gurgaon is developing at a high speed in terms of infrastructure development.
Project USP
• All rooms air conditioned with toilets being the only exception
• Hot water supply in bathrooms and kitchens
• Double-glazed tinted windows to keep noise away
• High-speed passenger lifts along with a service lift
• Efficient fire-security systems installed in staircases, lift lobbies and lift shafts
• Design and architecture compliant with BIS codes
• Special security feature: shuttle lift from basement can only access the lobby
Project Consultants
• Principal Architect: Architect Hafeez Contractor (Mumbai, India)
• Landscape Consultants: Geyer Coburn Hutchins (Seattle, USA)
• MEP Consultants: EEC WSP Co. Ltd. Bangkok (Thailand)
• Structure Proof Consultants: M/s WSP Consultants India Ltd. (India/USA)
• Traffic Consultants: WSP Development and Transportation (London, UK)
Price List:
| UNIT TYPE | SIZE (SFT) | PRICE/SFT | PRICE* |
| --- | --- | --- | --- |
| DLF The Crest – 3 BHK + Servant Room (2,678 sq.ft.) | 2,678 | 18,500 | 5 Cr |
| DLF The Crest – 4 BHK (3,116 sq.ft.) | 3,116 | 18,500 | 5.8 Cr |
| DLF The Crest – 4 BHK + Servant Room (3,529 sq.ft.) | 3,529 | 18,500 | 6.5 Cr |
| DLF The Crest – Penthouses (4,969 sq.ft.) | 4,969 | 19,500 | 9.7 Cr |
| DLF The Crest – Penthouses (6,137 sq.ft.) | 6,137 | 19,500 | 12 Cr |
Site Plan: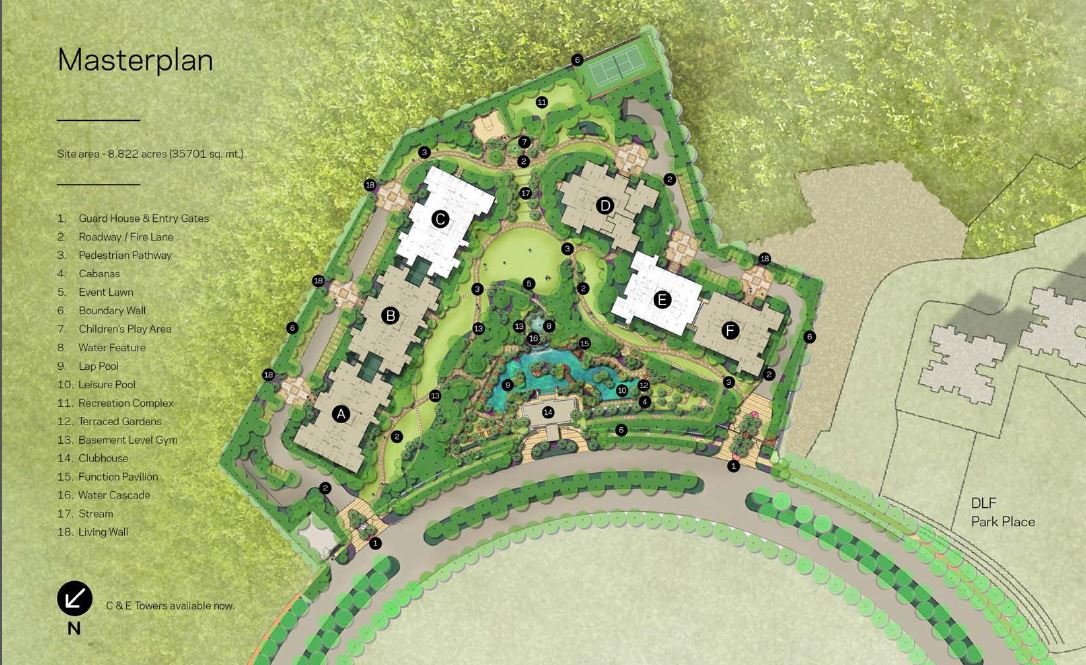 Address
Address:
Sector 54 Gurgaon
Country:

India

Province / State:

Haryana

City / Town:

Gurgaon Projects
Open on Google Maps