Prospective buyers looking to invest in the region can do so depending upon their requirement and budget. They will have good connectivity with other parts of Gurugram along with price advantage— Ankit Sharma
Gurugram's residential market continues to be stable despite challenges of huge unsold inventory with prices stable in the past one year. This is predominantly visible in pure residential areas like Sectors 81 to 85.
Considered established sectors, these are well connected and offer a variety of options through several forth coming and existing projects. Located in New Gurgaon region, and beyond Kherki Daula Toll Plaza, the sectors can be reached through National Highway 8. A sector road can take you to one of these areas. The same road goes straight and merges with Dwarka Expressway.
WHAT MAKES THEM ATTRACTIVE?
The residential sectors offer a mix of amenities and basic infrastructure including shopping complexes, shops, banks, hospitals, and educational institutions along with apartment properties.
Apartments in these sectors are available in different price range. The average residential price ranges from Rs 4,200-6,400 per sq ft.
The presence of amenities, surrounding infrastructure, and proximity to the national highway has made these sectors popular among those who wish to live close to their offices and still enjoy a tranquil life.
"The biggest plus is that several societies and projects are now ready for living. This will be an advantage for those who wish to buy the property on mortgage," Sushrat Gupta, a property broker in Gurugram, says.
Top developers like Bestech, Godrej Properties, DLF, Vipul, and Vatika Group have projects here.
WHAT LIES AHEAD?
Sectors 81-85 in New Gurgaon continue to offer alternative options to those who seek ready-to-move in properties in an established locality.
"The region has adequate facilities for residents. These will get better with time, when more residents come to live here," another broker in the region said.
With excess supply, however, prices will remain under check. The trend suggest that rates have not changed much in the past one year or so. Many firms have already announced new launches. "With new forthcoming supply, the trend is likely to continue into 2019 as well," the broker said.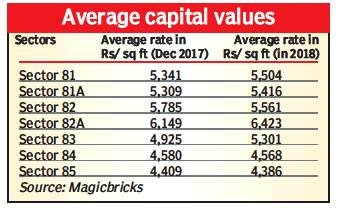 Source : TOI